The game has been around since 1974 and since then D&D has always had a presence in gaming and geek culture. From the iconic Red Box to being featured in TV shows like Stranger Things or Community. Maybe you've seen the movie that just came out or watched Critical Role or Dimension 20 online. Bet you've at least seen an image of a D20 on a shirt, but what does ANY of it mean? It seems like a fair chunk of people just haven't been lucky enough to find a Dungeon Master who is willing to sit down and walk them through their first dungeon. Well search no more! That DM has arrived...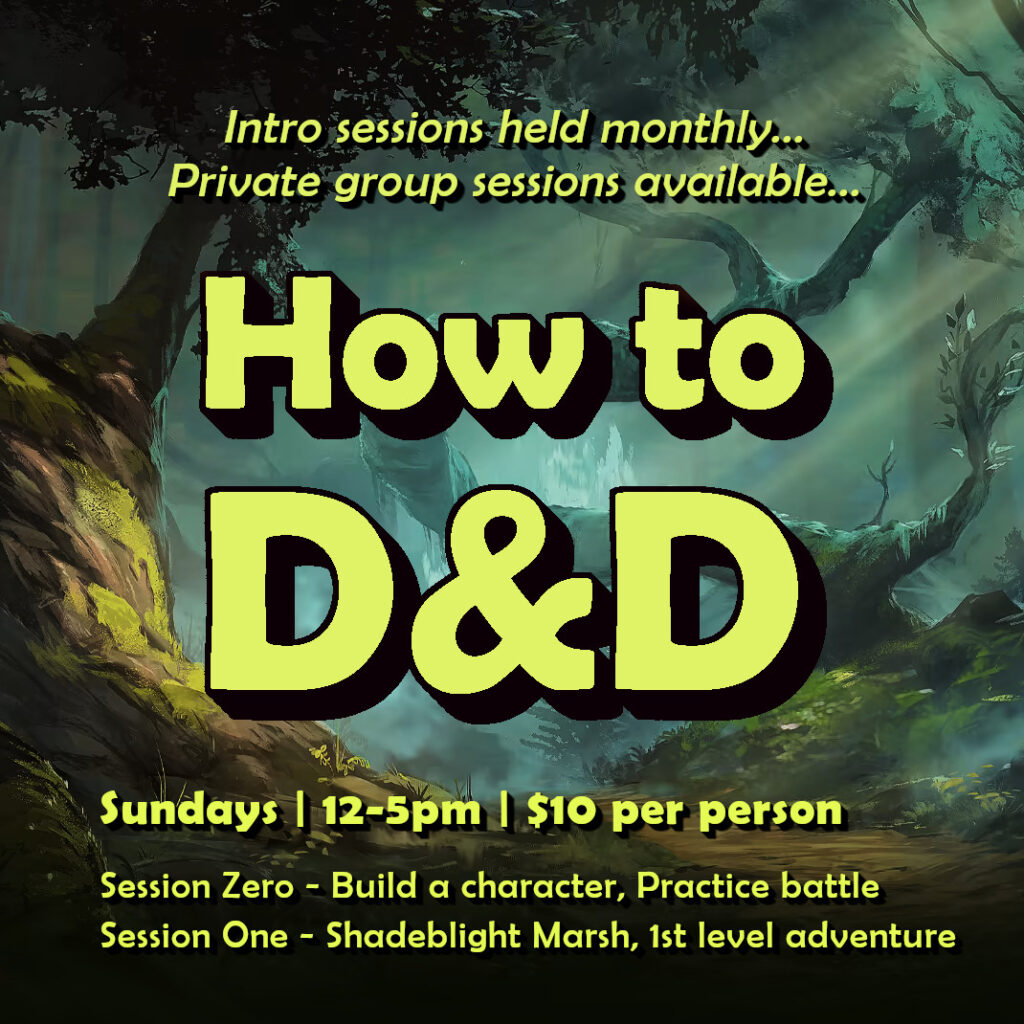 Minotaur Games & Gifts is hosting regular Introduction to Dungeons and Dragons Sessions aimed at new players who want to make a 1st level character, learn the rules, and experience lobbing their first spell or swinging a blade.
---
INTRO SESSION
So then, future adventurer if you're reading this here is what you need to know-
WHEN: Generally on Sundays, roughly monthly
WHERE: 78 Princess Street – Minotaur Games & Gifts
WHAT: Character Creation of a 1st level character, a basic overview of the rules of 5th edition, and a mini-adventure designed to practice roleplaying and to try out combat.
COST: $10.00 per person
MATERIALS: Everything you need will be provided!
---
SHADEBLIGHT MARSH
A 1st level Dungeons and Dragons one-shot adventure called Shadeblight Marsh. It's aimed at brand new adventurers stepping foot into the world for the first time, but experienced players are also welcome.
WHEN: Generally on Sundays, roughly monthly
WHAT: 1st level Adventure delivering a precious parcel to a distant mountain town by traversing Shadeblight Marsh.
COST: $10.00 per person
MATERIALS: Bring your fully built 1st level character and your favourite set of dice. Official D&D source material only for all characters.
---
Register in store or give us a call at 613.545.2308 to save your seat!