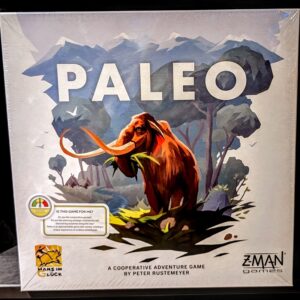 Paleo
Paleo is a co-operative adventure game set in the stone age, in which players try to keep human beings in their care alive while completing missions. Sometimes you need a fur, sometimes a tent, but these are all minor quests compared to your long-term goal: Painting a woolly mammoth on the wall so that humans thousands of years later will know that you once existed. What might keep you from painting that mammoth? Death, in all its many forms.
Each player starts the game with a couple of humans, who each have a skill and a number of life points. On a turn, each player chooses to go to one location and while you have some idea of what you might find there, you won't know for sure until you arrive, at which point you might acquire food or resources, or find what you need to craft a useful object, or discover that you can aide someone else in their project, or suffer a snakebite that brings you close to death. Life in Paleo is full of both wonders and terrors… 1-4 Players, Ages 10+ $75.00
---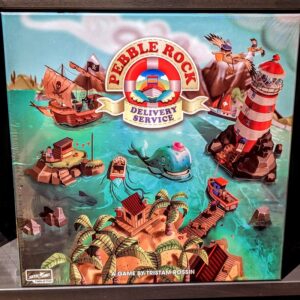 Pebble Rock Delivery Service
Help Pebble, Oscar, Hamish, and Elvis on a daring high seas adventure of package delivery! Guide them through swift currents, sharks, and pirates as you race to deliver much-needed cargo to the remote islands around Pebble Rock. Choose to roll fast dice and risk attracting enemies like Pirates and sharks, or play it safe and choose to roll slow dice.
Based on the delivery orders given to every player by Brock the Badger, navigate your boat to nearby islands to make deliveries and score points. As you go, you'll also need to stop by the shop islands to gain important equipment to give yourself an edge over the competition.
Pebble Rock Delivery Service is an all-ages "Pickup and Delivery" game. The game has enough depth to entertain seasoned gamers, while the core mechanics are simple enough to teach to young sea-captains. 2-4 Players, Ages 6+ $36.00

---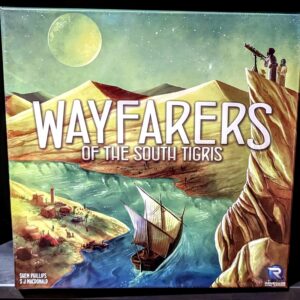 Wayfarers of the South Tigris
Wayfarers of the South Tigris is set during the height of the Abbasid Caliphate, circa 820 AD. Players must carefully manage their caravan of workers and equipment, while reporting back regularly to journal their findings at the House of Wisdom.
Points are primarily gained by mapping the land, water, and sky. Players can also gain points from upgrading their caravans, by gaining inspiration from nobles, and by influencing the three guilds of science, trade and exploration. As they make discoveries, players will want to quickly journal their progress. The game ends once one player's marker has reached the far right column of the journal track. 1-4 Players, Ages 12+ $70.00
---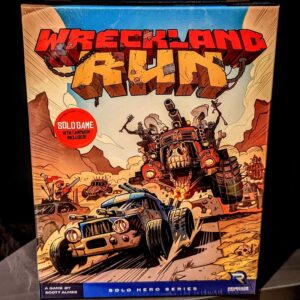 Wreckland Run
Wreckland Run is a solo campaign game! It takes place in a post-apocalyptic landscape known as the Wrecklands that's filled with marauders and other dangers and played across 7 chapters. With each new chapter, the continuing story will unfold in the campaign book. You will be instructed to open up a new envelope that adds exciting new bosses, enemies, and secret gameplay twists. Do not reveal them until you've been instructed to!
You will first choose a vehicle and driver. Choose wisely, as this will be your combination that you'll carry across all 7 chapters. The enemies and Parts you've encountered will remain in their decks, increasing the power of your arsenal, but also the ferocity of your foes!
The game is played over three rounds, each consisting of two phases, Wreckage and then Run. In Wreckage you'll repair and outfit your vehicle with new and upgraded parts. In the Run phase, you battle enemies over a series of turns, and hopefully survive to fight another day! You win by defeating the Boss in the third and final round of the game! Load up your vehicle with supplies, strap on a few weapons, and prepare to make your Wreckland Run. 1 Player Ages 10+ $56.00
---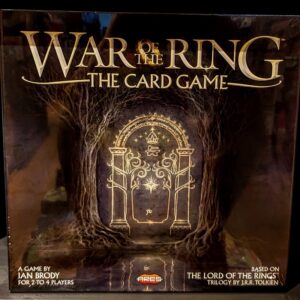 War of the Ring: The Card Game
In War of the Ring: The Card Game up to 4 players compete in two teams, the Shadow against the Free Peoples, each player using a specific and different card deck representing the strengths and weaknesses of the different factions involved in the war.
The Free Peoples desperately try to complete their quest to destroy the One Ring, while at the same time defending their homelands from the encroaching hordes of Sauron and from his evil allies. The Shadow players must strike quickly and decisively, before the Ring-bearers can complete their quest; or try to slowly corrupt Frodo, burdening him with wounds, toil, and the sorrow for the loss of his Companions.
During the game, players will take turns playing cards representing the characters, armies, items, and events of the War of the Ring. Each card they play will help or hinder the journey of the Fellowship as it progresses on its Path; or be used to defend or conquer the strongholds of Middle-earth, as they fight to control the new Battleground cards activated in each round.
With more than 100 original illustrations from the greatest Tolkienian artists in the world, including an amazing gallery of landscapes from The Shire to Mordor by John and Fataneh Howe, War of the Ring: The Card Game is more than a game – it also a memorable collection for all lovers of the world imagined by J.R.R. Tolkien.
2-4 Players, Ages 12+ $63.00

---