Call to Artists: FORAGE Group Art Show!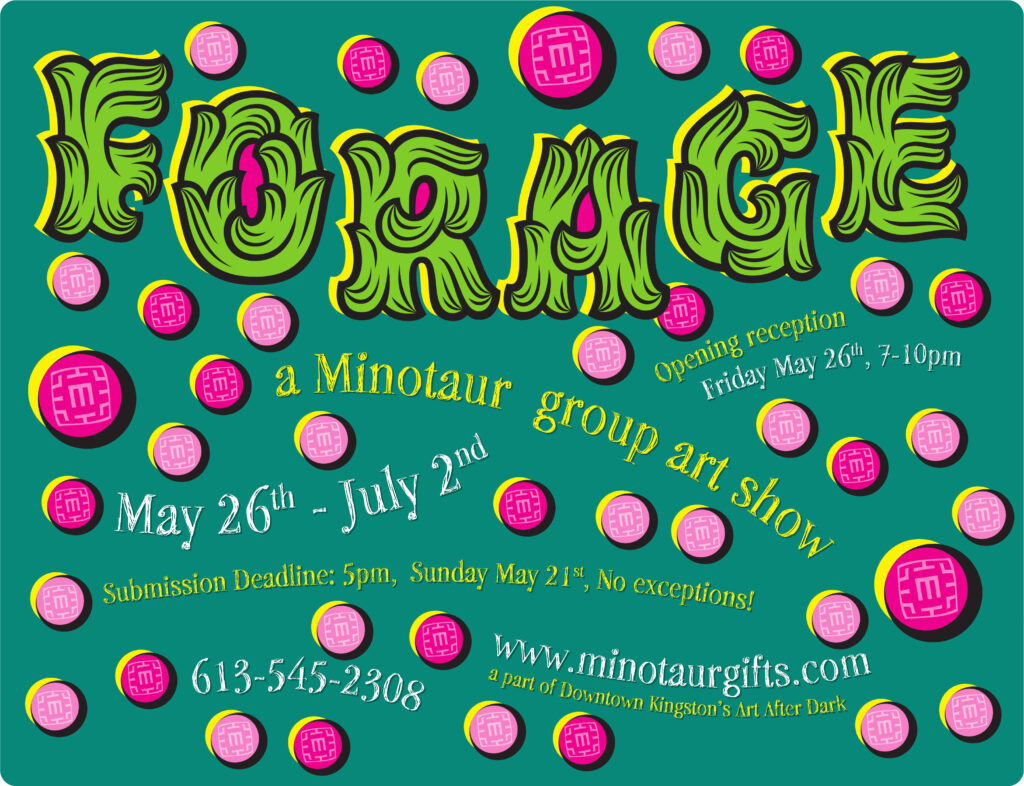 Please read carefully before submitting!

Submission Deadline: 5pm,  Sunday May 21st. No exceptions.
What's Accepted:
Any original artwork fitting the theme "Forage", as interpreted by you.
One piece per artist (and up to 10 prints, see below)
Minotaur reserves the right to refuse any piece. Dropping off a piece does not guarantee it will be included.
Unsure if your piece is a good fit? E-mail us a photo at [email protected]
Terms & Conditions:
Pieces must arrive "Ready to Hang" – We won't add hardware or alter your piece in order to hang it.
If an item is for sale, 60% of the sale price goes to the artist. We cannot guarantee a piece will sell.
Artist is responsible for dropping off their piece before 5pm, Sunday May 21st. No exceptions.
All pieces will remain on display until Monday July 3rd.
Unsold work must be picked up by 5pm, Sunday July 9th.
If your piece is especially delicate, large, or has special storage needs, please call 613.545.2308 weekdays before dropping it off.
Any prints offered for sale must be of a reasonably high quality. Please contact us for guidance.
While we will handle your work with the utmost care, Minotaur cannot be held responsible for stolen or damaged work.
Ready to submit?
After submitting, please also e-mail us a photo of your piece if you can!
________________________
Opening Reception, a part of Downtown Kingston's Art After Dark!
Friday May 26th, 2023 – 7-10pm
________________________
Questions?
The best way to reach us is by phone or e-mail on weekdays